Men's Soul Tavern Retreat – Lifebridge Sanctuary, NY, USA
January 17 @ 8:00 am

-

January 20 @ 5:00 pm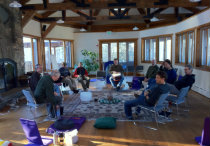 An event from the Hero's Journey® …
Join us for our highly anticipated and regarded annual winter Men's Retreat.
Our Soul Tavern gathering takes place within a peaceful winter sanctuary, in a warm and beautiful retreat building consciously designed for the specific type of communal gathering we are hosting.
Rest, restore and engage with men capable of being heartfelt and real, who aim to balance being in their depths with being light-hearted and fun.
Our format is Inter-Generational in intention and design.

We attract three different generations of men to this retreat – elders, mid-lifers, and those still getting established on their adult life path.  We meet both separately and together, learning from one another, challenging and inspiring one another, and being open and honest with what is most real for our current stage of life.

The themes we discuss are rich, relevant and meaningful.

The men who attend this type of retreat are willing to go deep and are capable of being real. 

The ways we interact with one another are direct, compassionate, thoughtful –   the way we practice revealing ourselves is both caring and daring.